Move to Northern Ireland: for the great outdoors
Where natural beauty is just a stone's throw away.
People around the world dream of having golden beaches, rolling hills and wild coastlines on their doorsteps. In Northern Ireland, those dreams are a reality. Where else can you sit in a city restaurant and look out the window to Black Mountain? If sublime landscape is an important factor when considering where to move, look no further than Northern Ireland.
Northern Ireland grabbed two spots in a list of the most beautiful UK locations including the Dark Hedges and the Giant's Causeway. Northern Ireland earned four of the ten top spots in Which's Top UK Areas of Outstanding Natural Beauty 2021 with the Causeway Coast, Strangford Lough, the Antrim Coast & Glens and the Mournes being favourites.
There's no shortage of Vitamin Sea either; the province is surrounded by 200 diverse kilometres of stunning coastline, cared for by the National Trust. Water quality is also excellent, overseen by The Blue Flag Beach Award. Beaches are assessed on environmental education and information, water quality, environmental management and safety and services, and the shores of Northern Ireland pass with flying colours.
NI has six blue flags across counties Antrim, Down and Londonderry. Another 11 beaches earned the Seaside Award for good water quality.  From surfers to paddlers, wild swimmers to sand-castle builders, NI's beaches are second to none.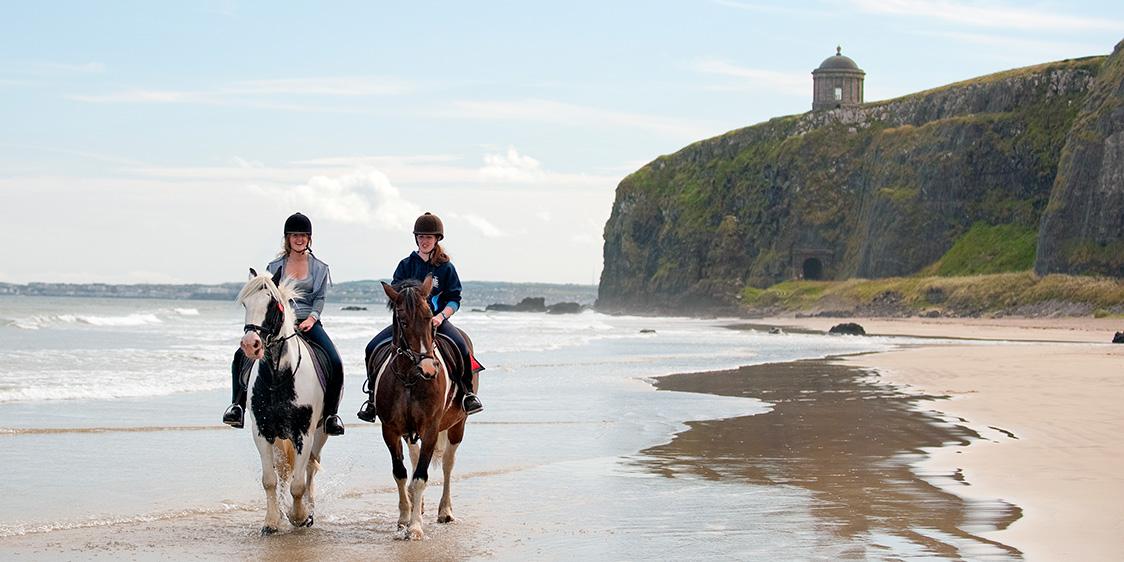 Northern Ireland isn't famous for its weather (hint: there's a reason why it's so green) but on studying the Numbeo Mid-Year Report 2021, NI Connections discovered that Belfast has the most likeable climate among other major global cities, perfect for an ocean-side BBQ or a day building snowmen alike.
If you like catching glimpses of the past, the island has no shortage of ancient history – over 16,000 historic monuments have been identified, ranging from prehistoric tombs to post-medieval settlements and dating from 7000 BC.
A Green Future
The environmental crisis is a very real concern. Sustainability and investing in a green future have never been more important but rest assured, Northern Ireland is doing its part to combat and minimise its ecological footprint and tackle climate change.
And it's no wonder, given the country's exquisite beauty and natural resources. Following the COP26 summit, the Northern Ireland Assembly passed its first-ever Climate Change Act, with legally binding targets to achieve Net Zero emissions by 2050.
Belfast has the second least pollution compared to Dublin, London, Toronto, New York, Sydney and Hong Kong, according to the Numbeo Mid-Year Report 2021. Greenhouse gas emissions have also plummeted 18% in 30 years (1990-2019.) And with almost half (46.4%) of Northern Ireland's electricity now coming from renewable energy sources – the country is well on track for a green future.
Academic institutions are going green too. Ulster University has joined with 226 other insinuations across 85 countries by signing the SGG Accord – a collective response by University and College sectors to the global Sustainable Development Goals 2030 set by the United Nations. Likewise, Erne Campus at Southwest College joined an elite list of eco-friendly buildings recognised for their global energy efficiency. The college joins 25 other centres of excellence that are the most environmentally friendly buildings in the world.
In March 2022 Translink rolled out Northern Ireland's first zero-emissions buses. 100 vehicles are in the process of being launched, with more on their way in the coming years. Translink will have the fourth largest zero-emission fleet in the UK and Ireland.
Championing Pre-loved
All kinds of people from Northern Ireland, from local government to individuals, understand the importance of creating a circular economy.
To coincide with COP26, the Linen Quarter Business Improvement District received government funding to run a campaign called RE[act.] It aimed to create a more sustainable Belfast by inspiring individuals across all sectors to respond to the global climate crisis.
Likewise, former Belfast Lord Mayor, Kate Nicholl, who launched the campaign is also a keen advocate for preloved clothing, encouraging everyone to do their bit for the planet by shopping second hand and creating a circular fashion economy.
A local company that is doing its bit for the environment is RESPONSIBLE.  RESPONSIBLE is a company that exists to fight for circularity in the fashion industry. The company aims to create a platform for sustainability and circularity in fashion by incentivising brands and consumers to buy, sell and trade clothes.
In March 2022, RESPONSIBLE announced it was investing over £1.2million in its business to support innovation and business development, creating 13 jobs at its new Belfast headquarters.
If you want to live in a place that is in rich in natural beauty and cares about the environment, come to Northern Ireland. The greenery isn't just confined to its landscape. Northern Ireland's green outlook means it's creating a fairer, more sustainable world. 
To explore a complete list of NI's natural wonders, visit Discover Northern Ireland.
These articles may interest you
Our free monthly newsletter brings you the latest news from Northern Ireland