Move to Northern Ireland: for the happiest place to live and work
Thinking about relocating? Northern Ireland has plenty to offer.
The last two years have made many of our diaspora reconsider where they call home. A lot of you have missed getting back to Northern Ireland to visit friends and family. And if you are thinking of relocating, why not consider moving to Northern Ireland?
NI has changed significantly in the last decade. It's a different place from the one our diaspora left to seek foreign shores. It's now a place full of opportunity with competitive housing prices, an excellent standard of living, world-class education and the friendliest people you could meet.
Whether you're originally from Northern Ireland, studied here or have a strong affinity with the region, there are so many reasons why moving to Northern Ireland could be your best decision yet.
It's the happiest place to live in the UK
If you're on the pursuit of happiness, move to Northern Ireland. It topped the charts as the happiest place to live in the UK with happiness level actually increasing  during the pandemic. And our people can testify to that; a whopping 69% would recommend it as a place to live – the highest statistic in the UK. There is a real sense of community too with 77% of people in Northern Ireland saying they feel part of their local community.
Belfast was one of six UK cities that made it onto the list of 231 global locations that offer good quality of life. The region also emerged as the UK leader in lifestyle and property.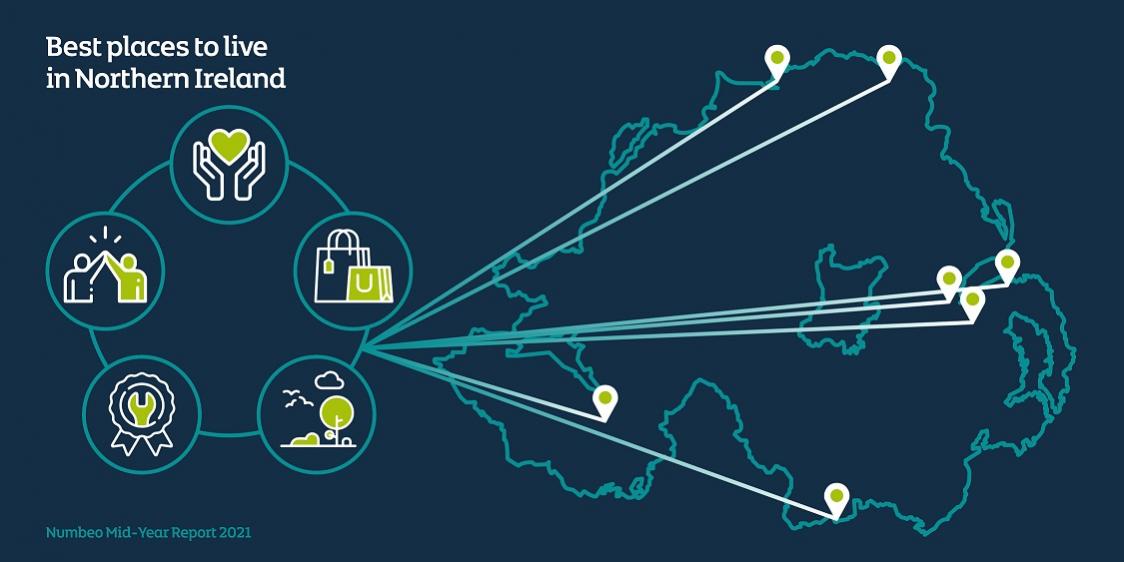 6 locations across Northern Ireland are touted to be the best place to live, including Ballycastle, South Belfast, Belfast City, Cultra, Enniskillen, Portstewart and Rostrevor. These locations boast the best quality of life, positive community spirit, good local shops, quality services and attractive outdoor spaces.
John Harkin, founder of Alchemy Technology Services and a member of our diaspora affirms Northern Ireland as a great place to live; "The quality of lifestyle is second to none and I've lived just about everywhere in the world."
It's cheaper!
Getting a bang for your buck is a key consideration when thinking about where to live. Northern Ireland's house prices offer highly competitive living costs for buyers and renters alike.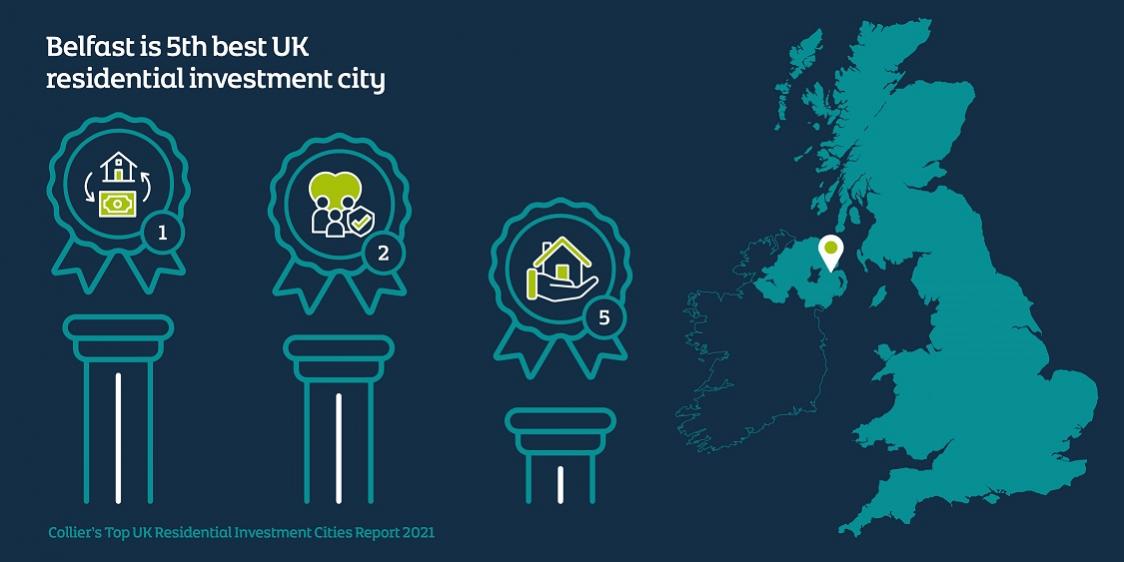 In Collier's Top UK Residential Investment Cities Report 2021, Belfast took the take top spot in the Liveability Pillar and ranks second in its Property Pillar. House prices in Northern Ireland are much cheaper than the UK average; in mid-2021 the average house price in NI was only £159, 109 compared to £270,708 elsewhere in the UK. The region also offers the highest residential investment in rental yields: the average rental yield for a standard flat in Belfast is 8.9% compared to 7.6 % in Edinburgh and a mere 5.1% in London.
Based on Numbeo's 2021 Mid-Year Cost of Living and Quality of Life indices, we ranked Belfast against 6 other international cities: Dublin, London, Toronto, New York, Sydney and Hong Kong. Belfast emerged as the city with the lowest cost of living, cheapest rent, and the highest quality of life.
Excellent Professional Opportunities
For working professionals, excellent career opportunities are a must-have during any move. Luckily, over 1,100 international firms like PEAK6, Tribe Technology, and Wolfspeed have recognised the talent pool in Northern Ireland and have expanded into the region.
John Harkin set up his tech business in the North-West of NI as he recognised the 'great attitude and skillset of Northern Ireland's people' was a recipe for success.
Northern Ireland is a destination location for investors. Belfast ranks as the 5th best investment city in the UK with recent investors such as Aflac, Agio and Insurance Office of America opening their doors.  The region has also had the best economic recovery post-covid in the UK, promising a strong future.
If you are considering moving to NI, your dream job could be closer than you think.
Supports remote working
It looks like remote and hybrid working is here to stay! Many diaspora members who have made working from home a priority will be well supported in Northern Ireland. The excellent digital infrastructure earns Belfast a place in the UK's top 10 cities for remote working. 
Reliable broadband means that Belfast has the least internet outages in the UK allowing for greater ease of working. NI is leagues ahead with the best UK full-fibre internet coverage of the four devolved administrations(84%) compared to England (35%), Scotland (33%) and Wales (34%.)
Shorter commute times
If going into the office is more your style, don't worry about a lengthy commute eating into your day. Thanks to Northern Ireland's compact size, it offers the third shortest commuting time in the UK with the average journey time lasting 50.4 minutes per day. 
Excellent Education
Access to quality education is a key consideration when you're thinking about moving somewhere. Thankfully, Northern Ireland is renowned throughout the UK for its excellent primary and secondary education. Belfast is named as a UK city region boasting educational excellence and Northern Ireland pupils are among the world's best in primary maths.
Northern Ireland is also home to two world-class universities, University of Ulster, and Queen's University Belfast. Queen's University is part of the prestigious Russell Group Universities, well known for their excellent research and reputation for academic achievement. It attracts students from all over the globe, clocking in as the 25th most international university in the world. Any international diaspora moving to NI study will experience a great, big hearty Belfast welcome!
World-class Health Services
Access to quality health care is at the forefront of any mover's mind. Thanks to the wonderful National Health Service, Northern Ireland's healthcare services get a good rep. Belfast offers the 3rd best healthcare out of 7 locations, better than Dublin, London, New York, and Hong Kong. 
A global survey reveals that Northern Ireland ranks 17/50 for its response to a healthcare crisis including the Covid-19 pandemic. Findings also show that NI received almost three times more favourable than unfavourable responses in how it handles healthcare crises. You can rest assured that a move to Northern Ireland means you'll will be in the best hands.
If you're considering moving back to Northern Ireland or relocating here for the first time, you won't be disappointed. With its excellent professional opportunities, cheaper living costs and access to world-class services, Northern Ireland offers it all. And as the happiest place in the UK, you couldn't ask for more!
These articles may interest you
Our free monthly newsletter brings you the latest news from Northern Ireland