Connor Curran - Local Laundry
We chat to Connor Curran, the founder of Local Laundry.
Local Laundry is a Canadian-made clothing company manufacturing garments for social good, determined to make the most socially conscious and most comfortable garments possible. 
NI Connections chats to Connor about his ties with Northern Ireland and how he built the Local Laundry brand from the ground up starting from a simple Google search, 'how to start a t-shirt company'!
Tell us a bit about yourself...
I'm Connor Curran, the founder of Local Laundry. My journey into the world of apparel began in 2015 with an unexpectedly inspiring fight against a washing machine. With just $50, a YouTube video, and a simple Google search, I started what is now an online clothing company committed to local sourcing and social good.
Fast forward to today, Local Laundry is proudly based in Calgary, Alberta, where we design Canadian-made garments that make a difference. Our mission isn't just about creating clothes that look and feel good; it's about fostering a sense of community and giving back to the society that supports us.
We've had the opportunity to work with amazing organizations across Canada, including the Calgary Flames, the CBC, Bayer, and more. These collaborations have enabled us to integrate Local Laundry's values into corporate clothing, spreading our message and ethos even further.
But that's not all we're about. At Local Laundry, we are on a dedicated mission to raise over $1 million for local charities across Canada by 2030. It's a challenging goal, but we believe in the power of local communities and the difference we can make together. Every garment we sell is a step closer to that goal, helping us to transform the industry and make an impact where it matters most.
What is your connection with Northern Ireland? 
I have a deep-rooted connection with Ireland, particularly Northern Ireland. My parents hailed from Newry, Co. Down, and even though they moved to Canada, they always cherished their Irish roots and ensured that I grew up appreciating our family's Irish heritage. They were successful entrepreneurs here in Canada, but our ties to Northern Ireland have remained unbroken. They started one of Canada's first authentic Irish Pubs back in the 90s and have remained closely tied to the culture.
Tell us about your family's heritage in Northern Ireland.
My family has been in Northern Ireland as far back as you can go. From farmers on my mother's side to butchers on my father's side. It has been such a significant role in our family. My connection with Northern Ireland doesn't just end with familial ties. It's also about the culture, the history, the people, and the landscapes that I've come to know and love through numerous family trips over the years. From the Mourne Mountains to the shores of Carlingford Lough, Newry, and the surrounding areas hold a special place in my heart.
How do you stay connected with Northern Ireland?
They made it a point to maintain a strong connection with our motherland through regular visits and constant communication with our extended family there. These experiences have created a profound bond with Northern Ireland that has only grown stronger over time.
Do you visit Northern Ireland often?
I visit Northern Ireland as often as I can, usually at least once a year. Every visit is an opportunity to reconnect with my roots, catch up with relatives, and explore more of what Northern Ireland has to offer.
Would you ever consider moving to Northern Ireland?
As for moving to Northern Ireland, I'm always open to exploring new opportunities. And if the right opportunity comes along, who knows? I might just find myself setting up another branch of Local Laundry there. My wife and son would love to own a home one day or build a home on our family land where we could spend holidays and summers there.
As a member of the diaspora what are your opinions of Northern Ireland?
As a member of the diaspora, I hold Northern Ireland in high regard. My opinion of Northern Ireland is overwhelmingly positive. From the rich cultural history to the warm and welcoming people, Northern Ireland is a place that feels like home, even when I'm thousands of miles away in Canada. We are a people that punch well above our weightclass and are some of the most innovative, artistic and charming people on the planet.
Over the years, my appreciation and understanding of Northern Ireland have deepened. My experiences and the stories I've heard from my family have painted a picture of a resilient, vibrant, and progressive society that has learned from its past and is looking towards a brighter future. This view has only improved in recent years as I've seen Northern Ireland grow and evolve.
Would you recommend living in, working in or visiting Northern Ireland to others?
I would absolutely recommend living in, working in, or visiting Northern Ireland. It is a beautiful place with a strong sense of community and a rich history. Northern Ireland has so much to offer, from stunning landscapes and historic sites to a dynamic economy and vibrant cultural scene. I see a tonne of opportunities emerging in Northern Ireland that would make it a great place to live, work or invest in.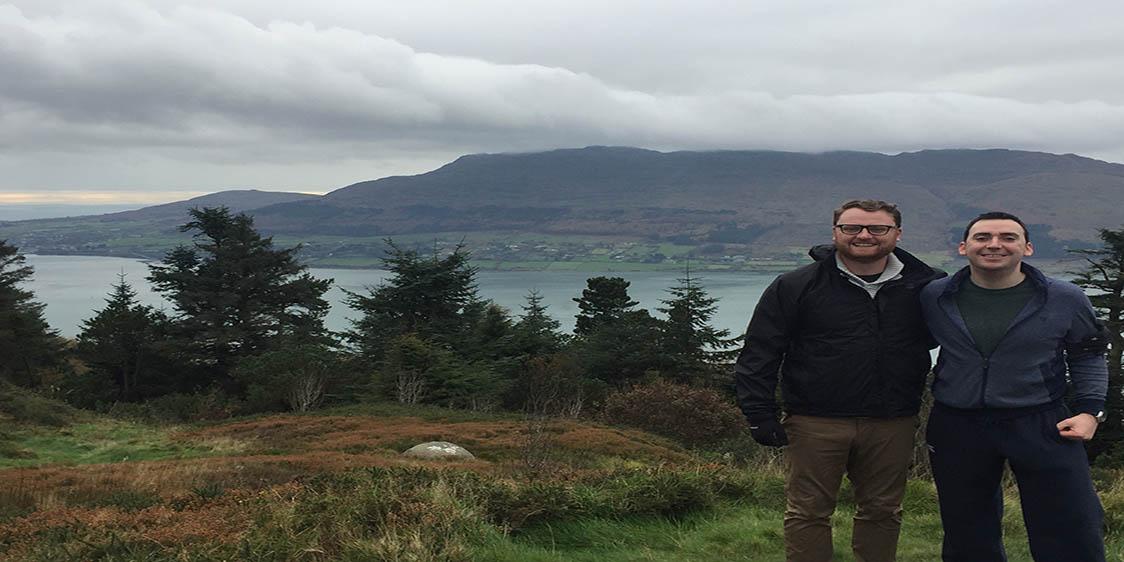 Are you a member of an active diaspora community in Canada?
In terms of the diaspora community in Canada, I'm proud to be a part of it. We celebrate Irish and Northern Irish holidays and festivals, which helps us stay connected to our roots and share our heritage with the wider community. We are members of the Irish club here in Calgary, Alberta, I play the fiddle as well am a former member of the GAA Gaelic football team here in Calgary, the Calgary Chieftains. St. Patrick's Day, of course, is a big one with our family pub, but we also celebrate other significant days and events that resonate with our Irish heritage.
How do you feel you can contribute to the Northern Irish diaspora community?
I feel I can contribute to the Northern Irish diaspora community by sharing the story of my family's journey from Newry to Canada and our experiences along the way. I also believe that through Local Laundry, I can promote a positive image. I believe I can contribute to the Northern Irish diaspora community by sharing my family's story and by fostering economic ties through my business, Local Laundry. I'm also committed to promoting a positive image of Northern Ireland and its vibrant culture.
What makes you most proud of your connections with Northern Ireland?
What makes me most proud of my connections with Northern Ireland is the resilience and spirit of the Northern Irish people that I see reflected in my family and myself. It's a connection that I cherish and feel deeply grateful for. The sense of community, the dedication to hard work and the commitment to making a positive difference - these are all values I've inherited from my parents and extended family. I also think no one knows how to laugh, tell a good story or joke and overall enjoy life to the fullest as people from Northern Ireland.
These articles may interest you
Our free monthly newsletter brings you the latest news from Northern Ireland