Carol Banahan left the stock market in Canada and set up her own stock market in Derry
Carol's Stock Market - manufactures natural stocks
We talked to Carol about her experience moving back home and starting a business:
I'm Carol Banahan, and I'm the founder of Carol's Stock Market. I was born and raised in Dublin and subsequently moved to Canada. I met my husband who is originally from Derry in Toronto and we eventually moved to Vancouver.

I spent the last twenty-five years working in the financial sector as a stock trader on the Canadian stock market. My weeks were very hectic managing a very busy trading desk – on an average day, I would negotiate equity trades worth between $50 and $100 million Canadian dollars.
Deciding to move home
We usually visited home twice a year and eventually decided to move back to be closer to family and friends. I also wanted a change of career and the chance to do something different and explore my entrepreneurial side.
Lifestyle Changes
Living in the country has been a big change, I had previously spent all my life living in big cities. It's definitely a bigger change living in a smaller place than I anticipated.  One thing I wasn't prepared for was the weather, it took a lot of getting used to!
The last six years in Canada we lived in Vancouver which is one of the most expensive cities to buy property, when we moved home we found our money went a lot further here we were able to get more value for our money in property.
I am pleasantly surprised by how much Ireland has moved on since I have been away it's a very cosmopolitan place now, it's definitely the kind of country I want to be living in!  Even during the time since I have been back Derry has really moved on particularly the food sector, it's a very business friendly place to work and a great place to live.
Carol Banahan
The Transition Moving Home
We decided to move home and take time off to settle in, get established and think about our next move, I had been away for 29 years and my husband for 22 years.
When I started setting up the business the challenges started to arise, I didn't have any contacts in the food business.  I had to start building new networks from scratch.  I had to totally reinvent myself.
My husband returned to his profession in radiotherapy, he works at the new cross boarder North West Cancer Centre at Altnagalvin Hospital, it was one of his reasons for wanting to move home the opportunity to be part of it. It's an amazing place doing great things.
All things being equal, it has been a good move for me, becoming an entrepreneur and setting up a business has taught me a lot, I have really enjoyed the experience even with the challenges along the way.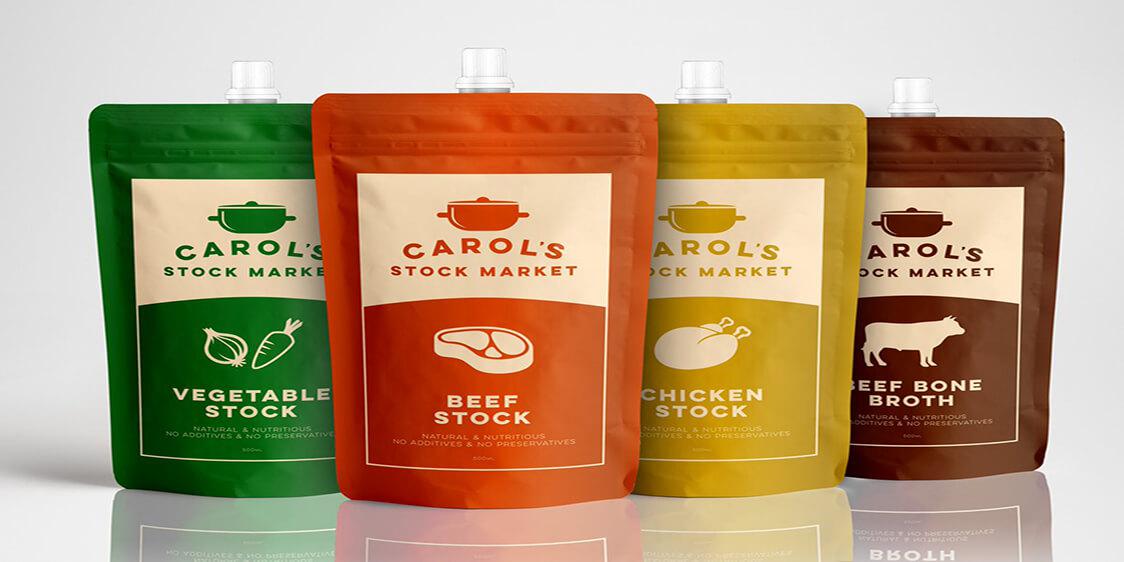 Starting Carol's Stock Market
I started Carol's Stock Market a small manufacturing business making natural stocks. I am one of the only producers of homemade beef bone broth in Ireland.
Making the change from working in finance to setting up my own food business has been monumental however, having a business background has helped a lot particularly when it comes to managing the finances.
I found there was a lot of support to help me start the business, it began with assistance from my Local Enterprise Office with the Start Your Own Food Business Programme and progressed to an innovation voucher from Invest NI.  I worked at the North West Regional Colleges Foodovation Centre for a year and a half developing the product and upscaling production.
Almost a year ago I set up my own manufacturing unit in Derry. The business is going from strength to strength, I am selling all over Ireland and recently starting selling into GB. I am also selling online delivering anywhere in Ireland & UK mainland. I plan to add to my range in the next few months and I am currently undertaking new product development and plan to expand my reach.
Biggest Surprise Moving Home
The biggest surprise moving back home is the spectacular beauty of the scenery, I grew up in Ireland but it still continues to surprise me! We are really spoilt for choices to find beautiful places to go.
Advice for Others
I would advise anyone thinking about moving home do your homework and carefully think through all aspects of the move before you rush into anything.  It is a major life change - you have changed while you were away and the place has changed while you've been away.  It's been a good move for us but it helped to have been really well prepared.
Our free monthly newsletter brings you the latest news from Northern Ireland