Marks Dowds returns home from Silicon Valley
Ballygowan native Mark Dowds a high tech entrepreneur, who founded companies in the US and Canada has recently returned to Northern Ireland
About Mark
In two decades Mark has helped get dozens of ventures off the ground, through his Canadian-based incubators Fresh Initiatives and Creationstep. During his time in Toronto, he established a co-working facility that helped nurture the city's emerging web 2.0 community. He was the the Co-Founder of BandofCoders, and ServiceCloud that was acquired by Salesforce.
In 2012 he co-founded Trov the world's first on-demand insurance platform. As the Chief Strategy Officer, Mark is accountable for company revenue, growth, scaling and expanding into international markets or within existing territories.
Since returning to Northern Ireland Mark has co-founded Ormeau Baths a co-working space and tech community, based in the historic former bath house.
We talked to Mark about his experiences moving home.
Mark can you tell me a bit about yourself?
I am originally from Ballygowan, Co Down but moved to Comber after I got married. I am a past pupil of Andrews Memorial Primary School, RBAI and QUB.
I left Northern Ireland in 1998 and moved to Vancouver, after three years I moved to Toronto and lived there for seven years before moving to Silicon Valley, California.
Why did you decide to come home?
We moved home for family reasons as my wife's parents and my father weren't well.
What difference have you noticed in the Tech scene since you came home?
There is a lot more energy in the start-up space since I went away. I wasn't sure if there would be much to get involved with locally when I moved back but I have found so many great opportunities to support through, Ormeau Baths, TechStart, and Catalyst, Inc.
There is a lot more emerging tech and people willing to take risks. People seem to have a strong awareness of the opportunities in the sector. We could benefit from more seasoned entrepreneurs who have experienced either a strong exit or failure, both of which are important for an entrepreneurial ecosystem.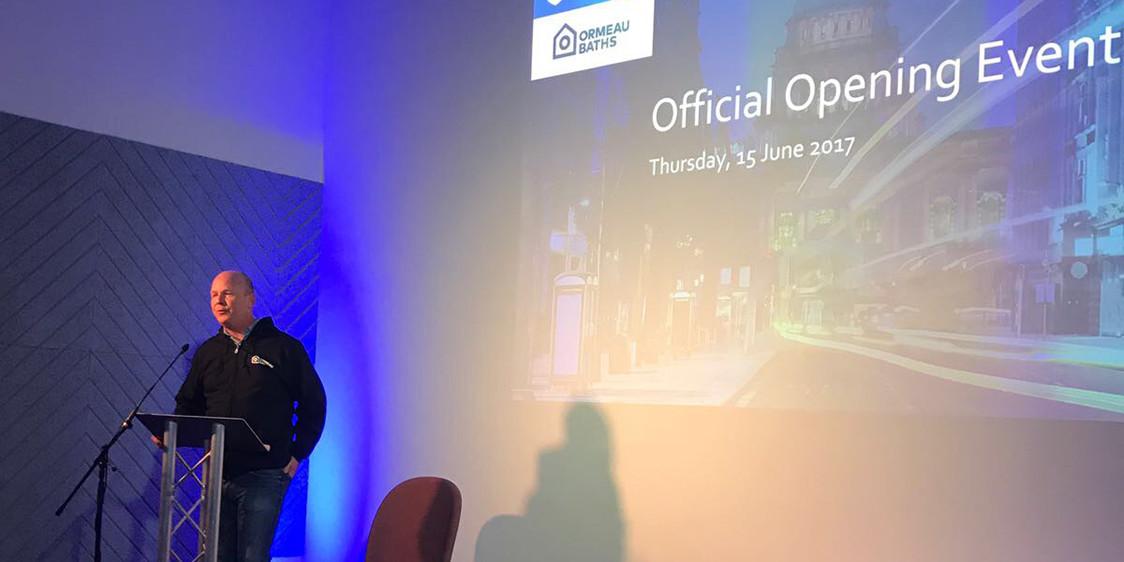 You are Chief Strategy Officer of a company based in California but live in NI how does that work?
It can be a challenge but it's very doable. Trov is an international company; we do work in Australia, UK, US and are moving into other territories at the moment. I travel a lot and am on video conference at all times of the day and night. I chose to make the sacrifice to be able to come back home to Northern Ireland.
What do you enjoy most about being home?
I love mountain biking and there are great trails in Castlewellan, Rostrevor, Bangor and Newtownards which weren't here before I moved away.

Socially I enjoy seeing old friends and hosting people.

Since we came back we have had friends visit us from Australia, Canada and California. They love the golf, the nights out in the Cathedral Quarter and the beauty of the North Coast and Donegal.
You moved home with your family, how did you all find the transition?
Once we made the decision to move home, things happened quickly. Moving was tough; we left California and moved back to Northern Ireland in January so the wet dark days were a shock to the system. We found our house online and had to ask my mum to go and view it for us. It was more difficult moving home than it was to move to Canada or the US, but my family is a well-oiled machine at this stage.
I have two children, Shaughan was 15 when we moved and settled in quickly he has adapted really well to the school system here and is now the head boy at Strangford College. Eirann was 13 and found it tougher as she really missed her friends back in California. She is well settled now and has a good friend base and goes to
Do you feel NI has changed since you have been away?
I have noticed people are more open now, they are less obsessed about your surname and where you come from. I still struggle a bit in the whole flag thing in July but also feel we are moving in the right direction.
Coming home has benefited me by being close to family, being able to see them regularly and support them. I have also gained some great new friends who have treating me so well and have welcomed me into the local tech scene. I am blessed.
Our free monthly newsletter brings you the latest news from Northern Ireland