Interview with Marissa Callaghan
NI Team Captain on qualifying for the UEFA Women's Euro tournament
Marissa Callaghan is originally from west Belfast and started playing football at the age of five. She represented her country at Under-15, U17 and U19 level before making the step up to the seniors.
Capped 63 times for Northern Ireland as team captain she led her team to victory in qualifying for the UEFA Women's Euro tournament for the first time. Marissa also works full time as Girls Participation Officer for the IrishFA Foundation.
We spoke to Marissa about the Northern Ireland team's historic win and what it means for the Women's game:
Marissa, how does it feel to be part of a team which made history?
I don't know how to put the feeling into words when we achieved the qualification after beating Ukraine it was an incredible mix of emotions pride, delight, relief, I am so proud of the team and feel so lucky to be part of it.
Can you tell me about the journey to the qualification? 
Some of the team have been playing together since we were part of the under 17's team, we been on this incredible journey of highs and lows together since we were very young girls.
The past 18 months has been so positive we got a new manager and coaching team whose sole focus was to prepare us for the Euro qualifications. In June 2019 our new manager Kenny Shiels said "if you trust me I believe together we can achieve wonderful things", from that moment on all the players bought into the dream.
Our first four games in the qualifications stages were against Norway and Wales when we saw the draw we had almost written ourselves off but when the new coaching team came on board we started to believe.
We lost against Norway but drew against Wales at home, when we got the draw against Wales we started to think "we can actually do something here!"
Then the pandemic hit we couldn't train together or get to know the new coaching staff, all matches were cancelled and we had to start doing all our training individually which was very challenging.
From June 2020 we were able to start training together in small groups and we started to get dates through for the next stage of qualification. Things were starting to look up! We beat the Faroe Islands and Belarus and got to the playoff stages.
We played Ukraine in the playoff stages, we were solely focused on those two games the staff and players were incredible we believed in ourselves and believed we could do it and that's why I think we won those games and qualified.
We have made history and are a year away from playing in the UEFA Women's Euro tournament.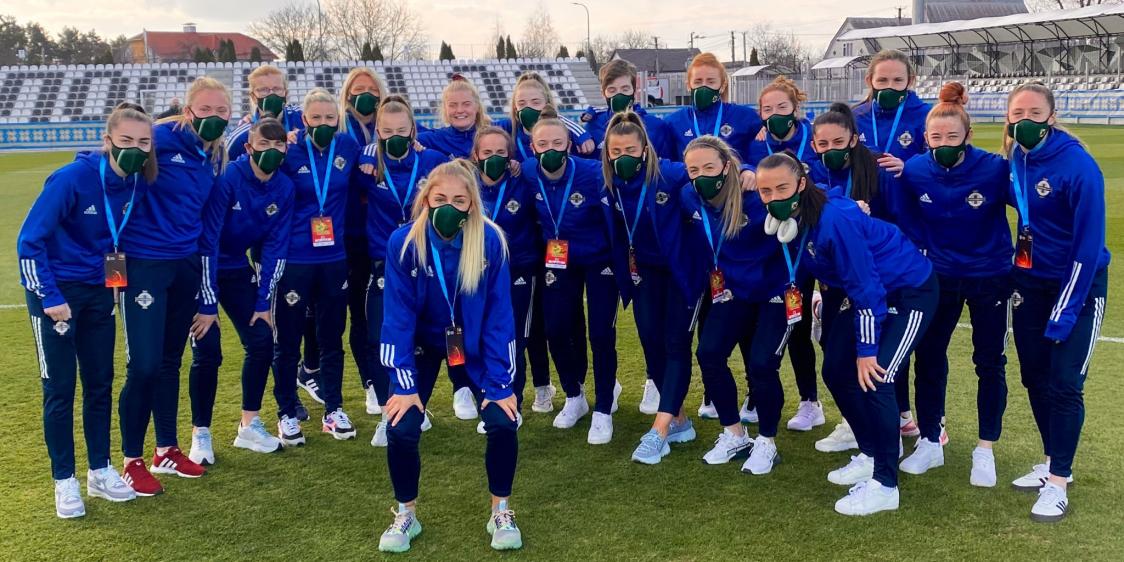 Can you tell us more about the team?
Most of the team are part-time players, we only have five full-time professionals who play in England and Scotland out of a squad of 30 girls, the majority of the team play in the Irish league at home.
Most of the team work full-time, some of us also have young families, and other players are students at University studying full time. Some of the team are frontline workers in the NHS who have been helping in the fight against COVID 19 throughout the pandemic and also trying to fit in training.
After the Ukraine games, we had to quarantine and some of the girls had to take unpaid leave from work, most of our players are using their holiday days when they have to go away on international duty, it just shows how committed the team are.
Everyone works so hard around their family, work and study commitments their dedication is amazing, you have to give up so much when you are an international footballer especially when you are a part-time player but thankfully we have got a reward for all our hard work.
Most of the teams we will be up against are all full-time players, there are 16 teams in the tournament and we are massive underdogs we aren't near any of them in the World or European rankings we have a journey ahead of us!
How has the Women's game changed since you started playing?
When I started playing there were no opportunities for young girls to play football, I didn't get an opportunity to play in a girls' team until I was 13, I just had to play in the streets with the boys.
Fast forward to 2021 and the opportunities for young girls are incredible the IFA has put a major strategic focus on supporting women's football for the last 5-10 years our aim as an association is to make sure every girl in Northern Ireland has an opportunity to play football and fall in love with the game.
We have the shooting stars programme aimed at girls from age 4 to 11 which is an after schools programme which is run in every council area. We also have the UEFA sponsored Disney playmakers programme which targets girls age 5 - 8 giving them an opportunity to see football come alive.
At a grassroots level, the NIFL and NIWFA are trying to grow awareness of the game and our clubs are focussing on the academy side of things so that girls will have an opportunity to play for a team in their local area. There is still a lot to do but we have amazing volunteers and coaches and the game has grown massively in the last five years.
By qualifying for the Euro's we hope we have inspired many young girls to take part in the game it's been great going out and visiting the schools to share our success story and inspire the next generation.
What is the support for Women's football like in Northern Ireland?
The support has been huge across Northern Ireland, I think we have some of the best people in the world and when we all come together anything is possible. I feel that our team represents that, we have players from every area and background across Northern Ireland but when we come together as a group we are one big family. When the people of Northern Ireland get together and support each other anything can happen.
After we qualified for the Euro's the MLA's in the Assembly gave speeches supporting us, seeing that in the Assembly Chamber was really special. We appreciate all the support we've been given.
Do you have a message for the Northern Ireland Diaspora?
We have the best fans in the world, if any of the Diaspora can make it to the Euros please come along and support our games, it's a big moment for the Women's game in Northern Ireland and the craic will be amazing.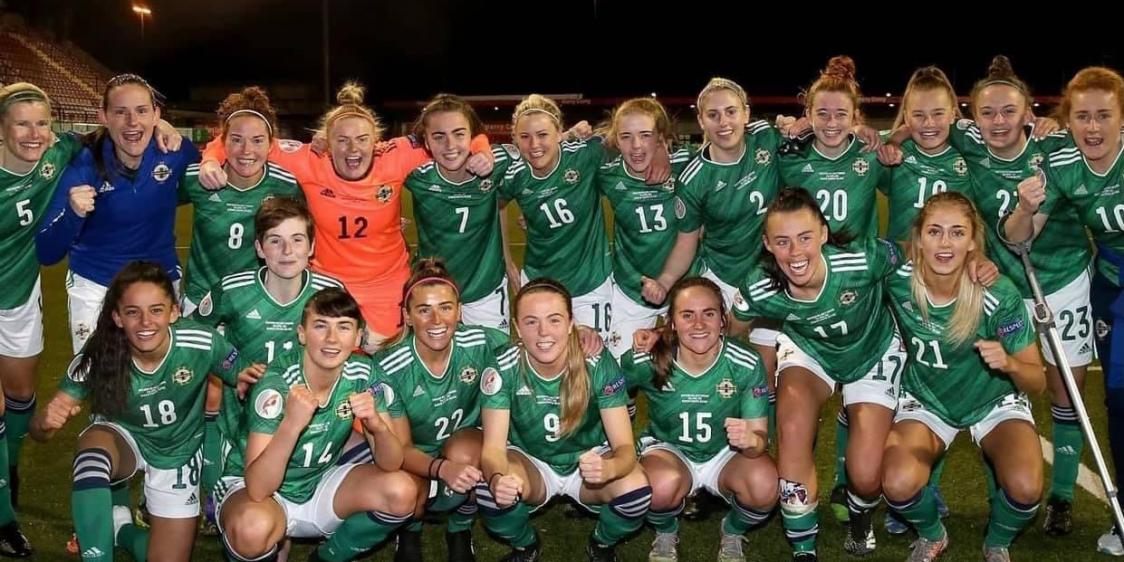 Our free monthly newsletter brings you the latest news from Northern Ireland