Remarkable Inventions coming out of NI in 2023
Shining a spotlight on the INVENT 2023 Award Winners
Did you know that Northern Ireland has a rich heritage in innovation? Our inventions have saved lives, transformed agriculture, and tickled the tastebuds of millions worldwide. (That's the defibrillator, the modern tractor and milk chocolate to name but a few!) 
 
And today, Northern Ireland remains an epicentre for invention. Have you heard about INVENT?  
 
INVENT is an annual competition organised by Catalyst that celebrates Northern Ireland's most exciting innovators and entrepreneurs, giving them an international platform and support to make the greatest impact.  
 
On 21 September 2023, ten finalists went head-to-head at the 2023 INVENT Awards, competing for the highest prize.  
 
And it was electric vehicle (EV) charging network start-up GoPlugable who came out on top! As well as being the overall winner, they also bagged the 'Greentech' Award.  
Co-founded by Queen's University Belfast graduate Maebh Reynolds in 2022, the innovative start-up took home a prize package of £25,000 from the total prize fund of £52,000.  
With their sights set on becoming 'the Airbnb for EV home chargers,' GoPlugable is building a community-powered EV charger-sharing ecosystem. The network enables EV owners to take advantage of privately-owned chargers available in their area and allows homeowners with chargers to earn money by sharing access. 
At Northern Irish Connections, we love cheering on our own talented people who are carving out unique career paths, creating pioneering solutions, and making a lasting impact on the world.  
 
And we'll cheer all the louder when it's young, female entrepreneurs who are leading the way.  
 
The event organisers noted there was a 'considerable increase in representation of women across the finalists this year.' And when each of the ten finalists took to the stage to deliver a one-minute elevator pitch for a chance to win £1,000, it was the all-female team behind menopause tracking platform Feminatech who were voted as audience favourites.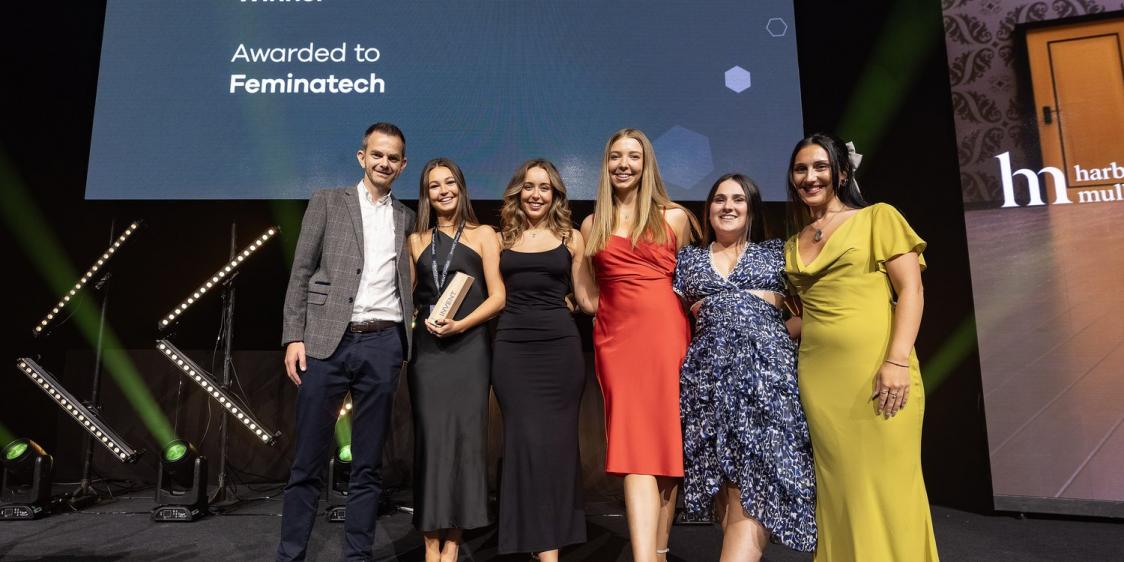 Go on the girls! 
More on the other award winners below… 
Inclusive Innovation Award - WearMatter 
A clothing brand committed to empowering individuals through inclusive, accessible, universally designed fashion. Designed for individuals with and without disabilities.   
Health & Wellbeing Awards – Little Sunflower 
An early intervention emotional wellbeing solution to the growing mental health crisis in children. Using animated, interactive, digital resources and plush toys, it gently leads children on uplifting emotional journeys towards resilience and self-esteem.  
 
Product Award - CycleAid 
A cycling safety device that uses AI to detect cars behind the cyclist. A sensor attaches to the bike and sends a signal to a haptic feedback harness worn on the cyclist's shoulders, which vibrates to indicate danger without visual distraction. 
 
Business Software Award - SEQO 
A platform for managing continuity in the TV and Film Industry.  
 
Consumer Software Award – Learning Me 
An app that merges best practices in health, pedagogy and educational technology to help children self-regulate. They're integrating three complimentary pathways to support early intervention, pastoral support and family relationships.  
 
Student INVENT Award – Levelway  
A pitch from an Ulster University student, who proposed an application that provides access routes for wheelchair users.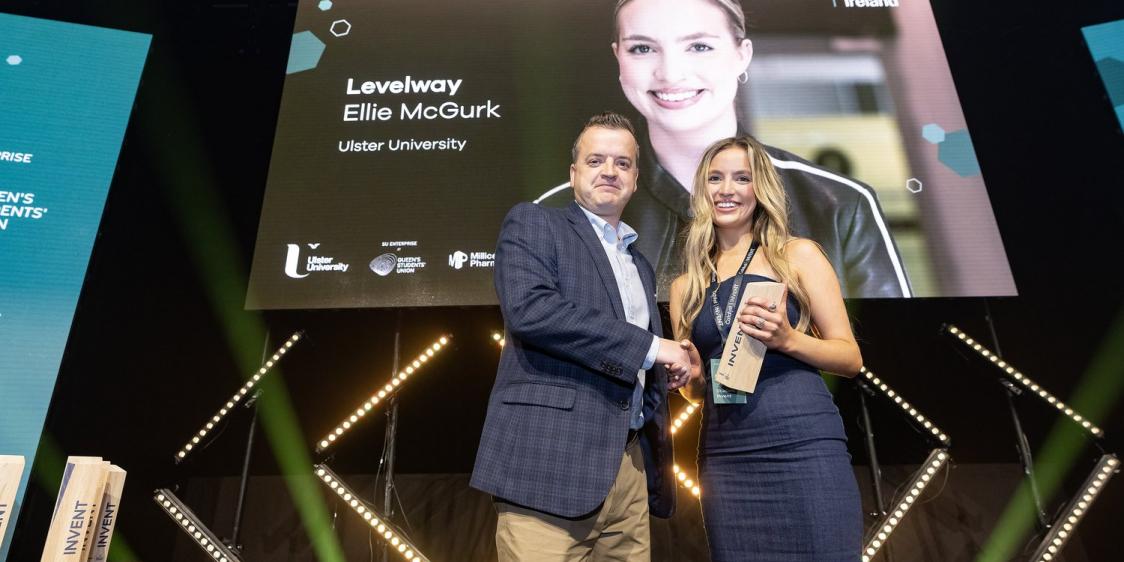 Not only are these entrepreneurs being recognised for their dedication to innovation, but they are being matched with the right sources of funding, so they can take their idea to the next level. 
 
We love to see it.  
 
Have you got an invention you want to put in the spotlight? You can apply for INVENT 2024. Go on, we dare ya.  
Our free monthly newsletter brings you the latest news from Northern Ireland