10 Christmas gift ideas for sharing the Northern Irish love worldwide
We know talking about Christmas in October can feel slightly premature, or even offensive to some – but hear us out...
If you're reading this, it's likely that you have at least one friend or family member living abroad.  
 
So how about passing on the Amazon Prime panic-orders this year, and instead sending a handmade gift from one of Northern Ireland's many incredible small businesses? 
That way you're sharing a special piece of home and supporting local. Double win.  
To give you some inspiration, we've put together a list of 10 of NI-based businesses, who offer worldwide shipping.  
Olivia's Haven candles: These luxurious soy candles hand poured from a workshop in the North Coast have captured our hearts (and noses!) Each scent has its own story, and is totally recyclable, refillable and reusable. Check out the limited-edition Christmas range here.  
NearyNógs chocolate: NearyNógs is Northern Ireland's first bean to bar craft chocolate makers and the oldest in Ireland. Chocolate nibs, bars, fudge, slates, truffles, drinking chocolate. You name it, they've got it. A monthly chocolate subscription? Yes please!  
Lines and Current jewellery: Designed 'for girls who don't wear jewellery,' – Lines and Current create simple but uber cool pieces that take you from daytime to dinner. They also donate 10% of all profits to charity, which is even cooler.  
Ricky Parker art: Home-grown photographer Ricky Parker creates stunning prints featuring some of Belfast's most iconic bars and pubs. A charming piece of local art that your loved ones can hang on their wall, and wherever they are in the world, are reminded of their favourite wee places and people back home.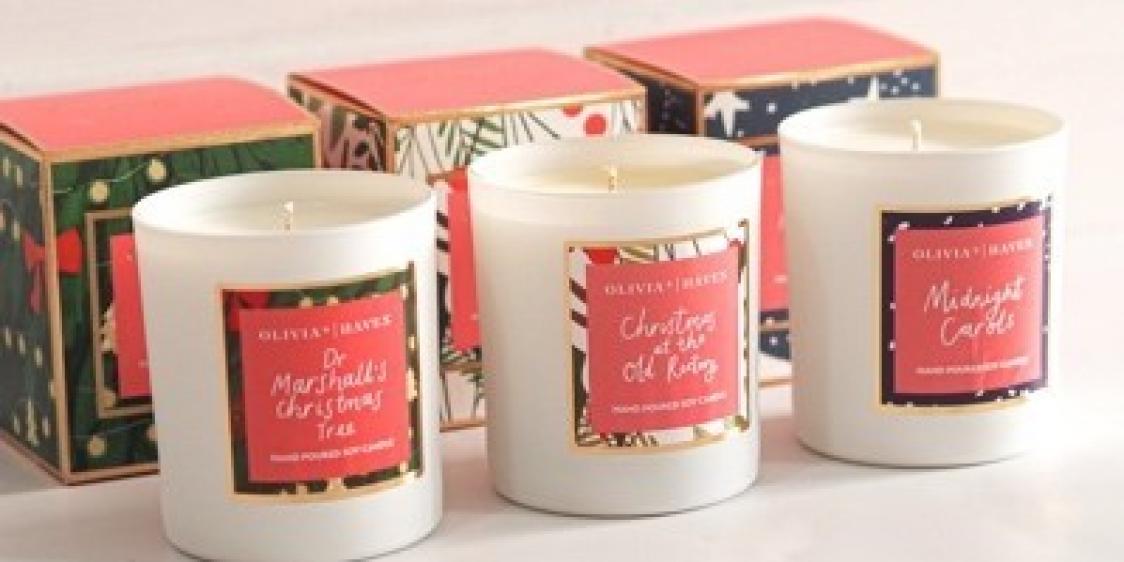 Jawbox Gin: If your loved ones enjoy a tipple during the holiday season, why not send them a lovely bottle of Northern Ireland's best gin? Jawbox Gin is distilled in the Echlinville Distillery just outside Belfast, and uses locally grown heather as one of its chief botanicals. Click here for a little hamper for the gin-enthusiast in your life.  
Bleubird Apparel: Born from a passion for the outdoors, Bleubird offer stylish men's and women's clothing, inspired by the unrivalled natural landscapes of our wee country. Loads of handy accessories and equipment too, such as their hugely popular changing robes. Perfect for any sea-swimmers across the pond!  
Mud Ireland pottery: If you want to send a gift to the mug-collector in your life, this is the one for you. Mud Ireland create beautiful handcrafted porcelain pottery and we particularly love their 'Irish Inspirations' collection. You can view it here 
Suki Tea: On the theme of mugs, nothing says 'home' like a big 'ole mug of tea. Upgrade the Tetley teabags for a range of loose leaf teas, which are ethically sourced and blended in Belfast. If loose leaf tea isn't your thing, check out the Pyramid tea bags. All the convenience of a tea bag with the quality and great taste of whole leaf tea.  
Madlug bags: A super stylish back-pack for your pal across the globe! Perfect for adventure, work, study, commuting or going to the gym - there's something for everyone. What we love even more about this Armagh-based brand, is that for every bag purchased, a pack-away travel bag is given to a child in care. The kind of Christmas magic we're here for.  
Born and Bred gifts: Ats us nai! Born and Bred offer an extensive collection of gifts featuring some of our favourite NI colloquialisms. Choose from ankle socks, beanies or tea towels to bring a smile to the faces of your loved ones abroad. They have even compiled some 'Festive Gifting Boxes' which feature a range of gorgeous locally-made products. Perfect.  
 
Now, let's talk deadlines! Make sure you're on the ball to ensure your gifts arrive in time for Christmas.  
 
While these dates can vary based on the destination and postal service, here are some general guidelines for posting gifts worldwide… 
 
Standard International Shipping:  
For most countries, aim to send your packages by early December (between 1st – 10th December) to ensure they get there before the big day. For Australia and New Zealand, end of November is advisable.  
 
Express International Shipping: 
If you're running a bit late, consider using express shipping services. You can typically use this up until 15th-20th December. 
 
That said, it's a good idea to check with each specific business for their postage deadlines.  
And there you have it.  
Whether you opt for sentimental, funny, or nostalgic; each of these gifts have a touch of Northern Irish magic. 
We hope you enjoy shopping from these fantastic locally-owned businesses, and sharing a little slice of home with your nearest and dearest around the globe this Christmas.  
PS. We know Northern Ireland is blessed with too many amazing Northern Irish small businesses to mention, we're sorry we couldn't give everyone a shout out this time! 
Our free monthly newsletter brings you the latest news from Northern Ireland