Northern Ireland takes Centre Stage
After two years of online festivals and gatherings, summer 2022 heralded the return of in-person events across Northern Ireland.
Over the last 2 years, we all adapted to a new way of life. And we got through it, together. We called, we clapped, we did quiz nights. Many, many quiz nights. Some were fun, some were a bit too long and some ended up in tears!
We discovered new hobbies, went for walks, and baked. We all baked! We fell back in love with the radio. We raided Grandad's record collection, constantly played music on our favourite Apps and streamed live gigs and events from around the world. But there was something missing. The atmosphere. The feel of the bass pulsing through your body. The excitement of knowing the band was about to walk on stage. And some of us actually missed queuing for the toilets.
It was the being there, in person, that we all wanted. To embrace every aspect of the live show. No matter what the live show was. We waited, but the waiting was never going to last. The doors reopened. The band is about to take to the stage. The festivals are back! And Northern Ireland is ready to feel that bass, ready to celebrate. In fact, Northern Ireland has been celebrating all Summer!
So, what's been going on? Well, we have picked up right where we left off. Northern Ireland has always embraced live music, the arts, diversity, and everything in between and we will continue to do so. Summer 2022 was a long time coming but when it did finally arrive, we all embraced it and we all turned out.
So, what's going on and on?
It all started off in June and the return of Belsonic. Amps were turned up to 11 as Iron Maiden, Tiesto, Calvin Harris and Irish band, Picture This, took to the stage and reminded us just how good live music is. We had a record-breaking turnout for an event that was sorely missed. Legend has it, some ears are still ringing!
In July, over 100,000 people attended the Foyle Maritime Festival on the Foyle's shores. The theme was 'What Lies Beneath,' which celebrated the extraordinary beauty of our seas, oceans, and marine life. The Clipper Fleet anchored once more on their way back home.
Come August, the PSNI had designated Belfast Pride 2022 as the "largest Pride parade to date." Tens of thousands of people flocked to Belfast's city centre to celebrate Northern Ireland's LGBTQ+ community. But the celebration did not stop there. In Northern Ireland, we love to keep the party going. 
The Belfast Mela also took place in August. A week-long celebration of diversity through world music, dance, food, and the arts. This was Belfast's largest Mela event to date. It began with a parade through the city on Saturday the 20th and ended with Mela Day on Sunday the 28th. To say it was an event to remember is an understatement!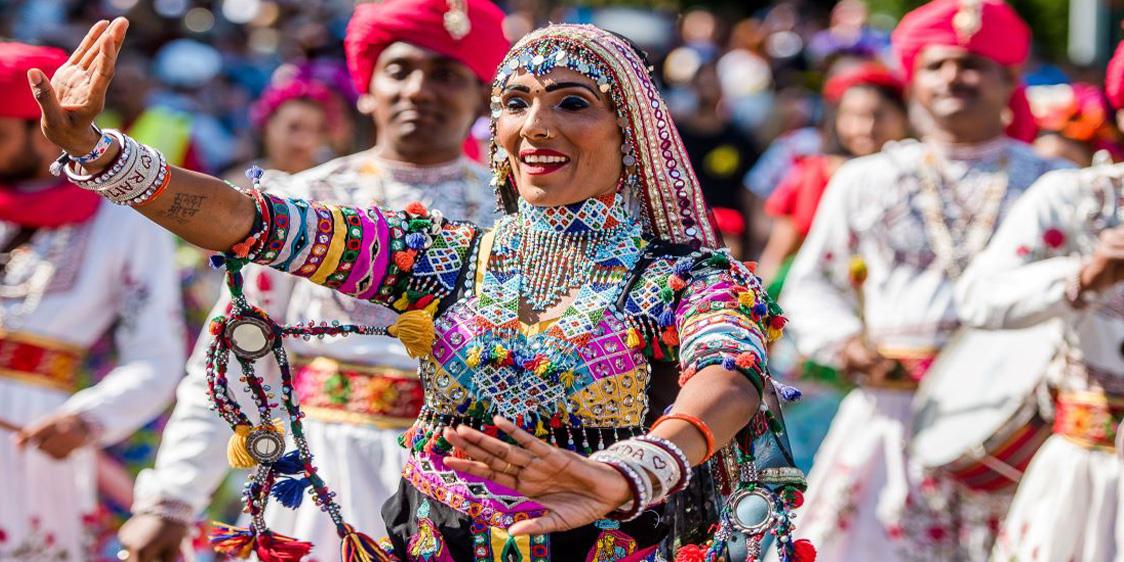 We really did miss all these events. We missed coming together as a community as well as a county. Northern Ireland knows how to put on a show, and the locals and people across the world came back to join in the celebrations.
And the show WILL go on and on!
Northern Ireland is the ultimate venue. We are a stage for all. And the invitation is open to all. The numbers returning underline the talent on offer and the uniqueness of every show, parade, festival and gathering. The show in Northern Ireland will always go on.
Like the Belfast International Arts Festival that runs from October 5th to November 6th. A month filled with colour, imagination and inspiration for everyone. A comprehensive calendar of events spanning the entire city, covering all aspects of the arts can be found here.
The 10th edition of the City of Derry International Choir Festival takes place from the 19th to 23rd October. It's a full programme comprising gala concerts, a wide variety of live performances, opportunities for singing groups of all shapes and sizes, workshops, discussion panels and massed choir singing. In summary, if you love singing, get yourself down here!
And sure, seeing as it is Autumn, we must talk about Halloween. Let's, embrace the madness and the Festivities across the country with Europe's largest 4-day Halloween festival in Derry. Yes, it's back on! Yes, it's time to dress up and scare the neighbourhoods once again!
Northern Ireland loves a party. Northern Ireland loves a festival. And Northern Ireland loves seeing you here. It's time to pay a visit. See a show. Embrace the culture. And experience it all. We are open. See you soon.
These articles may interest you
Our free monthly newsletter brings you the latest news from Northern Ireland