The Best of Belfast Podcast
Telling the stories of Northern Ireland Legends one episode at a time
We spoke to founder Matthew Thompson about how the Best of Belfast Podcast developed
I am Matthew Thompson - a twenty-four year old entrepreneur with a love for Norn Iron, writing and stories.  I was born and bred in Ballymacash, Lisburn, I went to Ballymacash Primary School and then Wallace High School.
I was passionate about English Literature at school but not much else and couldn't wait to leave.  Something which really changed my life was doing the Young Enterprise Programme when I was 16.  I stared a t-shirt company called quirktees, printing shirts in my mums garage and selling them all over the world. From that point on I tapped into an entrepreneurial side which I have been developing ever since.
Living Away
I didn't really like Northern Ireland I felt there were no opportunities, when I was 18 I decided to leave.  I went to Rwanda for three months volunteering with Tearfund, then I went to Haiti followed by Nepal volunteering just after the earthquake.
I ended up in Manhattan for what was supposed to be 10 months but ended up being three years working for a NGO who worked with the homeless and drug addicts.
Living in New York it sometimes felt like there was no place to be alone, it was constant noise, constant movement and it was very hard to recharge.  Then of course you miss things from home you miss the soda bread, the potato bread and the people. 
After being away for about a year and a half I came home for the first time, I still remember flying into Belfast and seeing the cranes and hearing all the Northern Irish accents on the plane and feeling so excited. I actually don't think I realised I missed home until I was on that plane. 
Deciding to move home
As I started thinking about getting married and setting up a business, to my surpise I began to think that Northern Ireland could be a really good place for us to live permanently.
My wife Jaci is from Germany, and really enjoyed visiting Northern Ireland.  She is a really big fan of the beach and I am a really big fan of the Mountains so Northern Ireland is a really good place for us as both are only a short drive away.
She finds the people here hilarious for some reason the German sense of humour and the Northern Irish sense of humour really sync up well.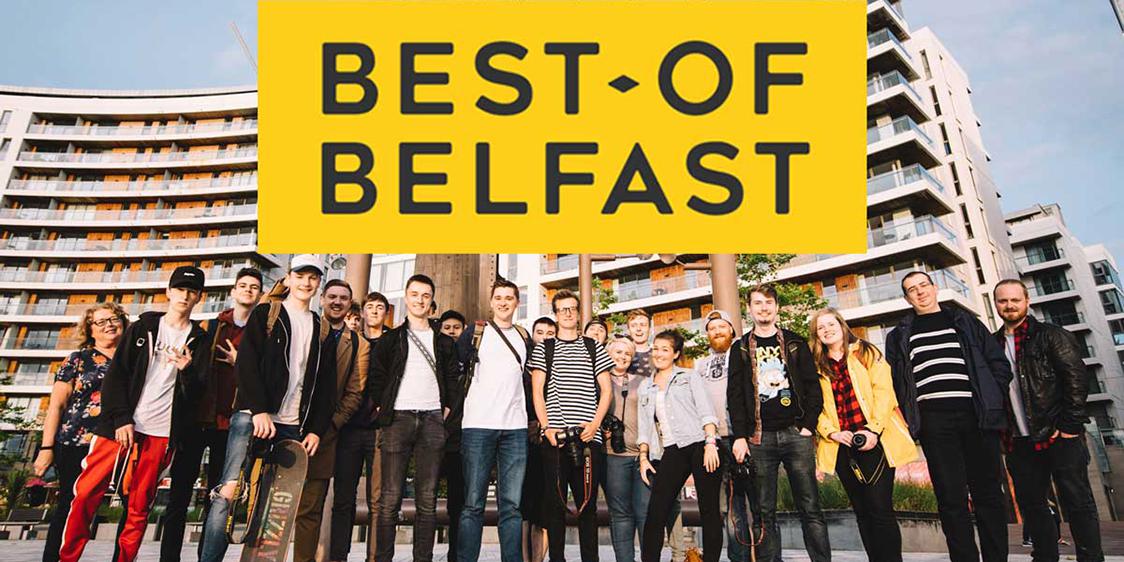 Founding Best of Belfast Podcast
When we moved back we took a couple of months to give us time to find our feet, I was just taking odd jobs gardening and doing bicycle deliveries for Deliveroo.   It was while I was cycling around and meeting people that I really started to fall in love with Northern Ireland.  I could see all the different businesses that were here and I was so amazed at everything that was going on.
Best of Belfast started as an Instagram page featuring images of the things I saw while cycling around.  It began because I noticed that Northern Ireland doesn't celebrate itself enough, we don't show off the incredible people here. 
I started a blog then realised when I was talking to people I that I should cut out the middle man and do a podcast so people could tell their own stories. 
So I launched the Best of Belfast podcast with no prior radio experience at all and have learned an awful lot along the way.  There was really an appetite for it, I got great support from day one, starting as a monthly show and due to demand has increased to a weekly one.
We talk to a variety of people from market traders, street artists, musicians, entrepreneurs, small business owners, authors to strangers on the street.
Over 40 unfiltered hour-long conversations, we've interviewed well-known folk like Bill Wolsey, Michael Deane, Linzi Rooney and Carol Fitzsimons.
Setting up a business in Northern Ireland
The opportunities are abundant in terms of the amount of support that is in place for entrepreneurs in Northern Ireland, for example, Ormeau Baths and Invest NI.  I have heard people say that NI is the most supportive place to launch a business and I have to agree. 
There is so much in place on the infrastructure level, but on a personal level, people are so willing to help, to go out for coffee and give you advice or connect you with people.  Because the country is small it's really easy to network and you'll find your only one or two connections away from the person you need to talk to.
Plans for the future
Alongside working as a Copywriter, my goal is to have at least 100 hour-long conversations with some of the incredible people who call Northern Ireland home. I'm passionate about changing the narrative away from the sarcastic, down-playing negative and towards celebrating just how incredible this place is.
We have so much more to the world beyond the overplayed tropes of bombs, Brexit and sectarianism. I want the world to see Northern Ireland is a great place to visit, to learn, to set up a business and I also hope the locals learn to see that as well.
My big plan is to eventually publish books set in Belfast and the podcast is an incredible way to get to know the city, meet people and document the journey along the way.
Find out more about the Best of Belfast Podcast and subscribe.
Our free monthly newsletter brings you the latest news from Northern Ireland